Beach cruiser bikes have a well-deserved reputation for comfort. When it comes to buying accessories for a women's beach cruiser bike, many riders naturally think of a wicker bicycle basket. Beyond this simple solution for carrying cargo, you can also choose from a large selection of cargo and visibility gear in addition to high-tech tools that make it easier to monitor your activity levels and stay on track. Find out more about the most popular accessories for beach cruiser bicycles.
Baskets and Carriers

Beach cruiser bikes are made to provide a smooth ride on paved and hard-packed terrain. Cruiser frame geometry is best suited for relatively flat terrain. These bikes have thick wheels and may have room to support a basket or cargo solution on the handlebars, frame or rear rack.
A bike basket made of wicker or any other material makes it easier to ride a electric beach cruiser for running errands. If you ride a cruiser as a means of daily transportation, you may prefer an everyday cargo solution such as a pannier made of water-resistant materials that you can mount on the tubes of a bike frame or rear cargo rack.
Cruiser Bike Lights

Many women's beach cruisers have bright or pastel-colored frames. While the styling of these bikes may be more visible than other hybrid, mountain or road bike designs, safety lighting is necessary to ensure that you remain visible to motorists on rides before dawn, after dusk or in weather conditions with less than optimal visibility.
A headlight improves your ability to see, and projecting designs may also increase your visibility to cars. A tail light is important when riding in traffic, and some models also blink as you slow to a stop or have remote-control turn signals. The most popular bike lighting designs released in recent years are projecting wheel lights that may have the ability to display your choice of colors or custom 8-bit graphics.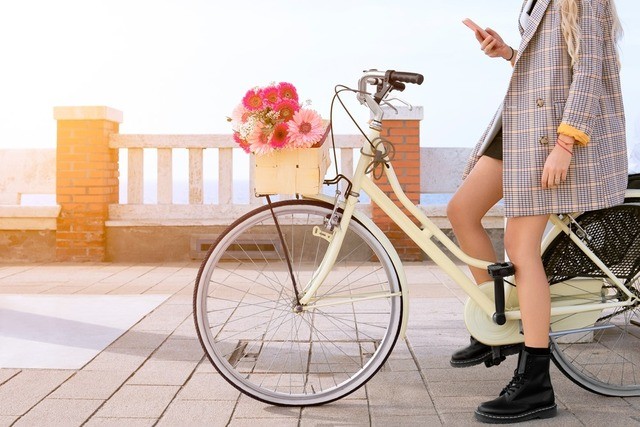 Computers and Navigation Systems
Bike computers have also advanced by leaps and bounds in recent years. Even casual or recreational riders can appreciate the features of the latest releases. In addition to functioning as activity monitors that measure cadence, distance and speed, a growing number of these devices also support hands-free navigation and other assistance.
If you only need basic monitoring or navigation functions, you may prefer to simply affix a cell phone mount onto the handlebars of your bike. Depending on the systems you use to monitor activity, navigate routes and find destinations and stay in touch, you may prefer a standalone bike computer and navigation system or gear that makes your cellphone or wearable devices easier to use while riding.
These are just a few of the best accessories for beach cruisers. If you ride your bike on a regular basis for transportation, any of this gear could prove practical. A beach cruiser with an electric motor can make riding much easier and more comfortable. Make sure that you can safely ride your beach cruiser on paved or hard-packed surfaces at any time of day.